COMING AT YOU WEEK OF 10.19.21
This week's most important marketing news
ONE
Google search results will now have continuous scrolling on mobile. We repeat, on mobile. But this is still big because so far you pretty much had to be in the top 10 results to get traffic to your page, but now that traffic will be a bit more spread out. Plus, more and more of our internet browsing happens on mobile.
TWO
​This life insurance commercial is entertaining, creative, and purposeful. It follows a dad closely missing multiple attempts his family makes to kill him. The ad explains they offer, "life insurance so good, they're gonna want you dead." 😅
Toeing the line is almost always fun, but it'll only pay off if it's purposeful. Ladder's VP of marketing explains how the ad will meet their company's needs: "The brand promise is incredibly strong and resonates with a generation of consumers that feels like life insurance wasn't built for them." Yeah, and a generation of consumers that has some freaking dark humor.
THREE
The Federal Trade Commission (FTC) warned 700+ companies to be transparent and honest with endorsements and reviews. A director at the FTC warned, "Fake reviews and other forms of deceptive endorsements cheat consumers and undercut honest businesses. Advertisers will pay a price if they engage in these deceptive practices."
As long as this is enforced correctly, it's only a positive for us marketers who are into good vibes, honesty, and the Great British Baking Show. Companies could be in danger of facing civil penalties if they do something that's been previously labeled unlawful by an FTC administrative order.
Bottom line: make sure you're transparent about content that's an ad, including endorsements from influencers.
FOUR
Oh, and Twitter is testing out ads in the reply threads of a Tweet.
Find out which channels bring the most people to your website for their first visit
You can be smart about how you spend your time and resources when you know how people get to your site. Are people checking out your site after they visit your Instagram page? Are Google search ads the only reason anyone ever comes to your site?
We're about to share steps to pull up a report in Google Analytics 4 (GA4), the latest version of Google's web analytics tool released about one year ago. A lot of marketers are currently living in this limbo between adopting GA4 and abandoning Universal Analytics, the older version of this tool.
So here's for all of you who haven't pulled up a report like this is GA4 yet.
Click to expand Life cycle reports
Click to expand Acquisition reports
Select the User acquisition report
Select the First user medium option in the column 1 dropdown menu
Click on the New users heading for column 2, so the rows are ordered by channels with the most users.
And that's it. Easy peasy. Now you can easily see which channels are the most and least responsible for bringing people to your site for their first time.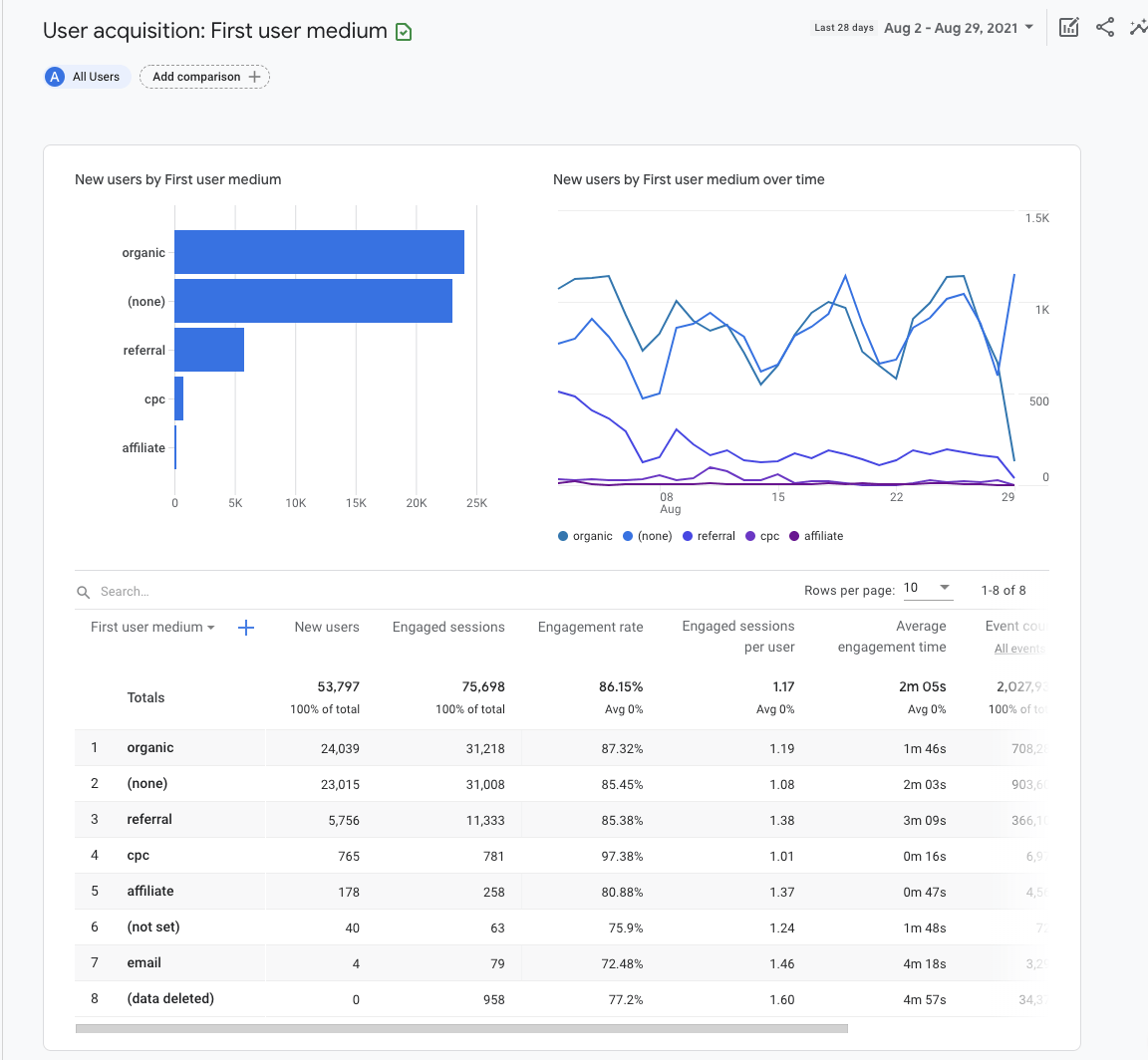 These are the channels GA4 identifies by default:
Direct, a person typed in one of your site's URLs. Like if you got to our site by typing in "highrisereads.com"
Organic, a person found your page through Google, or some other search engine, like Bing.
Referrals, a person clicked on a link from another site's page (not a search engine) that led to your site.
Email, a person came to your site through an email campaign you sent out, like if you link to a blog post in your company newsletter and someone clicks on that link to read the blog.
Social, a person clicked a link in your company's social account and the link brought them to your site.
Paid search, a person clicks on a Google search ad to get to your site, or another search engine ad (like AOL or Bing).
Display, a person clicked an ad that appeared on another webpage, like one of the 400 ads that keep you from actually reading the chili recipe you looked up for dinner tonight. Those are display ads.
Affiliates, a person clicked on a link that was shared by an affiliate, someone who shares your product with their audience and in return you compensate them, usually with a percentage of the sales that they get you.
Other, the traffic that Google doesn't know what to do with.
You don't necessarily need to spend the most time and energy on whichever channel ranks first for you in this report. But that wouldn't be a terrible strategy.
This report can also help you check on assumptions you have for how people are first convinced to visit your site. It could show you that a certain channel needs a lot more time and energy, if you want it to share a piece of the traffic pie. Or, it could be the evidence you take to your boss to justify the budget you want for a paid ad campaign.
However you use it, this is a simple but powerful report to check regularly.
Keep marketing like mad, guys. 🥂