COMING AT YOU THE WEEK OF 12.13.22
This week's most important Marketing News
​GOOGLE'S UPDATING THE HELPFUL CONTENT SYSTEM
The update ads signals to show Google when content was created more for search engines than people. And it started rolling out December 5.
GOOGLE RELEASES PRODUCT TO HELP PUBLISHERS IDENTIFY CONTENT GAPS
In Question Hub, Google "collects unanswered questions directly from users to identify content gaps online." Then, it shares that with publishers who sign up for the product.
Google is also experimenting with a Content Ideas feature in Search Console that looks a lot like Question Hub.
GOOGLE SEARCH ON DESKTOP NOW HAS CONTINUOUS SCROLLING
This has been live on mobile for a while now, but about six pages worth of search results will appear in continuous-scrolling fashion on desktop.
CERTAIN TOPICS WILL SHOW REFINEMENT OPTIONS ON GOOGLE SEARCH
For instance, a search for "dinner ideas" might populate refinement options like "easy" and "healthy."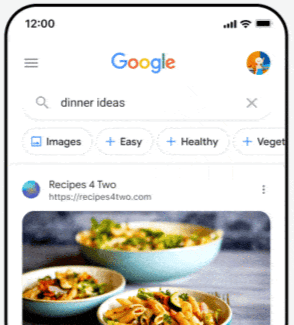 LINKEDIN HAS NEW PRIVACY-FRIENDLY AD TARGETING OPTIONS
Specifically, LinkedIn's Group Identity targeting is now available for all ad types. Group Identity uses LinkedIn's first-party and zero-party data for targeting.
LINKEDIN EXPANDED THEIR CREATOR ANALYTICS
You can now investigate causes for subscriber growth and identify top posts.
AMAZON RELEASED A TIKTOK-LIKE SHOPPING FEATURE
Amazon is calling this new in-app feature Inspire. Brands, influencers, and other customers can post in a full-screen scrolling content format to help people find and learn more about products. Inspire started rolling out at the beginning of December.
TWITTER HAS NEW AD PLACEMENT CONTROLS, NEW INCENTIVES, AND MORE
Ad controls. You can now keep your ads from appearing next to Tweets that discuss sensitive topics using Twitter's new content controls .
Ad incentives. They're also giving a 25% value add if an account spends $200k on ads, a 50% value add if you spend $350k, and a 100% value add 👀 for accounts spending $500k.
View counts. Soon, they'll show view counts on Tweets.
Re-releasing handles. Twitter plans to re-release certain handles that have been inactive for a while.
YOU CAN ADD MORE DETAIL AND STORYTELLING TO FACEBOOK AD LEAD FORMS
FB Lead Forms lets you share additional details about (1) how your product or service works, (2) general product details, (3) social proof, or (4) incentives, like a free trial or consultation.
​
This lets you transform your text instructions into Excel formulas with the help of AI.
This marketing newsletter gives tactic recommendations based on scientific research from top business schools.
GOOGLE INTRODUCES NEW MACHINE LEARNING ADDON FOR GOOGLE SHEETS
The addon, Simple ML, is free. With it, you can identify cells with erroneous data and fill empty fields. Plus, you don't need to be familiar with machine learning to use it.
PEER LEADERSHIP ADVICE FROM RECENT EXECUTIVE CREATIVE DIRECTOR OF LINKEDIN
We spoke to Kevin Frank, former Executive Creative Director for Linkedin and Creative Director for Apple. He shared some insights with us on how we can become effective leaders in a team setting.
When you were at LinkedIn, you led the creative team to become the AdAge in-house agency of the year. How were you able to push and motivate your team to create work that was recognized?
There's no single answer, but here are some approaches that were successful for me. One important way is building trust with the team over time. This comes from giving them room to make mistakes and fail because great work only happens when we feel free to try new things.
It's also important to share a common goal. Whenever I hired somebody, I would say, "my job as a manager and leader is to set you up for success." We would talk about what success means and come to a conclusion where we both aligned. I then always followed through on helping them become successful.
Another tactic to produce great work is overcommunicating. I explain every piece of feedback that I give, letting people have a window into my head and see how I solve problems. The expectation isn't to have them solve the problem exactly as I would but to provide them with skills to solve it themselves, and hopefully in a better way than I would.
How would you get your team inspired during short turnaround times?
I've never worked in a place where short deadlines don't exist. It comes back to being honest and having empathy. No one is going to buy it if I say, "Hey, you've got two hours to turn this around, isn't that awesome?" Instead of saying, "Hey, I know this is a super tight turnaround, but here's why I decided to take this project on. And let me know how I can help." That helps to explain why the project is important and to let them know I'm there to support them with the resources they need.
Obviously, you've had a lot of experience. Is there a specific project that you're proud of?
Earlier in my career, I would have pointed to a specific campaign or project I was working on, but now I'm more proud of the overall brand-building I've done at the companies I've worked for.
For example, when I joined LinkedIn, people knew what LinkedIn was, but they didn't know what it stood for. The body of work that I created for LinkedIn was helping people understand that LinkedIn is not just a place to put your resume or look for a job. It's a community of professionals who help each other out.
Earlier this year, we did a campaign called "Welcome Professionals." We shifted people's thinking about what it meant to be professional. This is a prime example of overall brand-building that pushes beyond one specific project.
What do you believe has contributed to your success?
Stubbornness. Determination is a more user-friendly word for stubbornness, but whatever you call it, you'll need it to overcome the constant rejection. It took me two years to get my first job, and another six years to get a job at Venables Bell. And getting a job is just the first line of rejection. Once you get in, your work will get rejected over and over by clients, co-workers, creative directors, and everyone else with an opinion. So you have to keep going back to the drawing board again and again until you find a great creative solution that gets approved.